Cross is coming are you ready?
Aug 06 2015 · 0 comments · CX, Training ·

3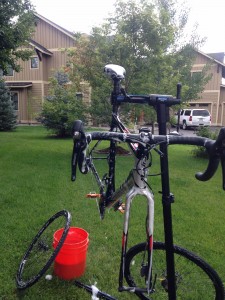 Right now it's 85 degrees outside without a cloud in the sky or a patch of snow in the mountains. It's easy to forget that soon, the leaves will change colors, the temperatures will plummet and cyclocross season will be here. It seems like the excitement for cross starts earlier every year, as the sport gains popularity and prestige in the U.S. If you're looking to have you best cross season yet, whether that means throwing down on Wednesday nights at Lindley or contesting big races across the country, the preparation starts now. In this post I'll be highlighting a few crucial components that are necessary to ensure you're ready to go when the whistle goes off this fall.
Gear
For many of us, the cross bike has been collecting dust in the garage since the end of last season. If you've been riding your cross bike in gravel grinders or otherwise this summer, then you will have a better idea of how it's working and what you need to fix/replace before the season starts. Otherwise, you need to give your bike a once over to ensure it's in working order. First order of the business is to clean it. Remove the wheels and rub everything down with a soapy sponge and then rinse it off with a hose. Be sure to dry everything immediately to prevent rust. Take special care of the drive train. Use a strong degreaser to get it all nice and shiny again before lubing the chain. Now shift through all the gears, adjusting the derailleurs as needed. If you have major shifting issues, you most likely need new cables and housing. Same goes for the brakes. Check to make sure they feel smooth when you pull the lever. If it's sticky or clunky then replace the cables and housing. If you're running hydraulic brakes, check to make sure they feel firm when engaged. If they're spongy or weak, bleed the system and replace the brake pads. Also be sure to inspect your tires for cuts or excessive where. If you're running tubulars, make sure the tire is still well glued to the rim. If there are weak spots, re-glue the tire.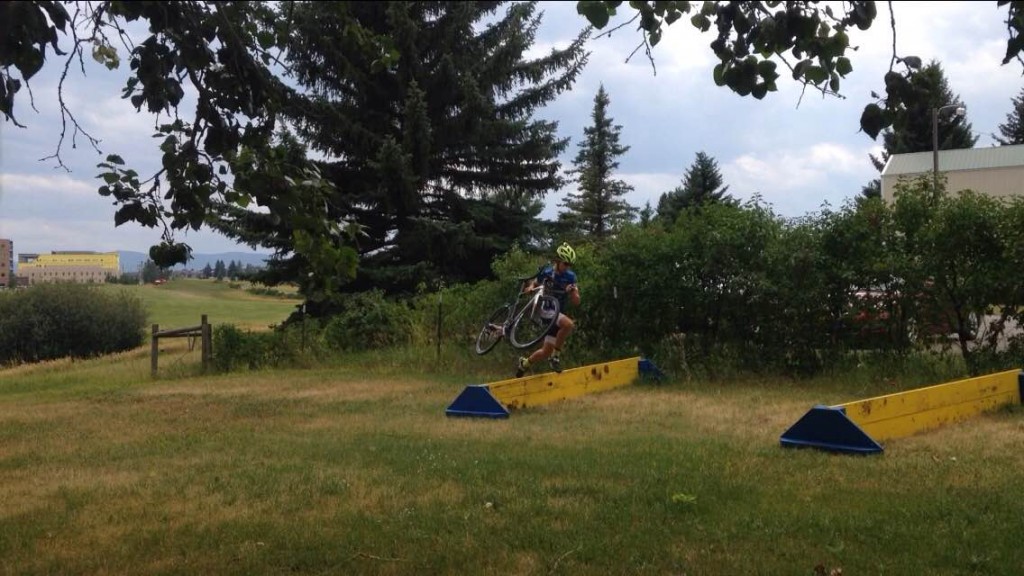 Skills
It's probably been a long time since you've done any specific cyclocross skills practice. A good place to start is with a few dozen dismounts and remounts on a flat grassy field. Be sure to incorporate barriers into this drill as well to simulate a race environment. I've often heard mountain biking skills equated with proficiency on the cyclocross course, but cross bikes handle completely differently than mountain bikes, so it's crucial that you practice on the cross bike. I find some of the best practice comes from drilling the same skill again and again. Choose a particularly tricky corner or other feature and do several dozen repeats on it at race speed. Your skills will improve and you'll have practiced using good technique while at high speed and race intensity. I often warm up for skills sessions with several practice starts. When practicing starts, you want to make sure you're in the right gear (I find that 46/23 or 46/25 is ideal depending on the starting straight), that your cranks are in the right position (most people like nine and three o'clock), and that the pedal you aren't clipped into is rotated to a position that will allow you to naturally clip in right off the line. It's always better to practice skills (starts in particular) with a small group, to further simulate a race environment.
Fitness
Anyone who's raced cross once will tell you that to be competitive you need to be very fit. If you're coming off a summer of road and mountain biking, you'll have a solid base from which to build from for cyclocross season. Cyclocross races are shorter and thus more intense than most road and MTB events. This is why it's important to stress high intensity threshold work in your training. A great set of intervals are over/unders, as they provide a good simulation of a cross race. One set is 8-12 minutes at or just below threshold, with a twenty second burst to 150% of threshold power every two minutes. Complete two to four sets on a steady climb. Another great workout is circuit training on your cross bike. Find a short circuit that takes around 3-5 minutes when riding all out. Try to incorporate at least one mandatory running section and several technical corners or other sections where it is difficult but possible to stay on the bike. A great way to start is with the easy lap/hard lap drill, which is exactly what it sounds like, with the hard lap above race pace, and the easy lap slow but maintaining good technique. You can build to multiple hard laps with less rest. This a great way to build fitness and skills at the same time.
The most notable difference in cyclocross-specific training is the incorporation of running. As cyclists, we often avoid running like the plague. Running training for cross doesn't consist of running for extended periods of time. In the U.S. at least, the most you'll ever have to run for cross is never more than twenty seconds or so. To prepare for this, I like to do several hill sprints lasting five to ten seconds, sometimes just running up the hill and sometimes shouldering the bike as well. The steeper the hill, the shorter, faster steps you should take.
Now go fix your bike, practice those barriers and pound out some intervals. Cross is coming faster than you think.
See you on the course,
-Henry
3