Round and Round 24 hour mountain bike race
Jun 24 2015 · 0 comments · Juniors, MTB Racing, Race Updates ·

7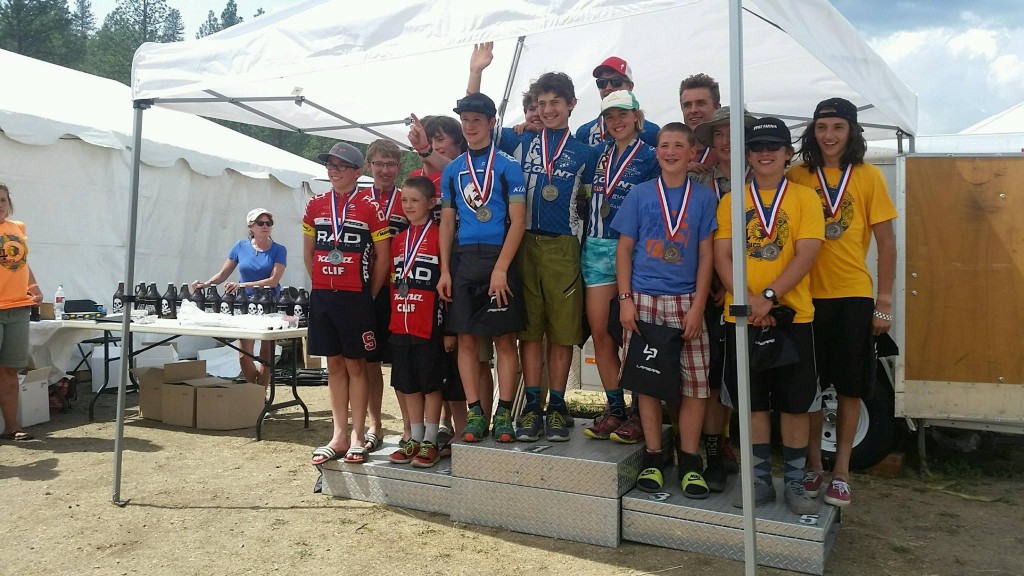 It has been said that there are three types of fun. The first includes activities which are fun to plan, fun during, and fun to discuss afterwards. Example: an easy sunset hike with friends, a blissful powder day. The second type is fun to plan, involves some struggle during, and is fun to talk (brag) about after the fact. This might include learning to waterski, riding a tough trail, or finally flashing a challenging climbing route. The third type of fun is, in fact, only fun after it's over.
These hardcore activities inspire apprehension even in the planning and the actual carrying out of them brings one near death, but the after-effect is oddly, impossibly elating. Round and Round, the twenty-four hour mountain bike race that I completed a few weeks ago with Drew Palmer-Leger (Team Kuhl, Park City UT), Henry Coppolillo, Logan Diekmann and Graham Branch, was the epitome of type three fun. Over the course of the longest day of my life I learned that we don't "have fun" in spite of our challenges; we have fun because of them.
Team Rockford was fortunate enough to be joined by Drew Palmer-Leger, a nationally recognized shredder, cyclist for Team Kuhl, and overall kuhl kat. Drew is from Park City, UT and was thus fortunate enough to miss the loud Tina Turner sing-alongs and feminism discussions that characterized the Bozeman shuttle to Spokane. All Round and Rounders arrived at the course on Friday afternoon and Team Rockford joined the Palmer-Legers for a pre-race lap. After sweating it up on the course, the kids headed into town to shower and grab a carbo-loaded dinner while Pete Coppolillo graciously held down the fort back at the venue. Friday night was spent, with the exception of Pete, at the home of Logan's grandparents. The kids played a wild game of spoons and then hit the sack, eager to get some shut-eye in while they still could! Saturday morning arrived with a bang – literally. I was woken up in the kindly sensitive manner of having silly string and confetti sprayed in my face. Actually, I think Logan's hair might still have some purple stains in it…
After breakfast, Team Rockford-Kuhl headed back to the course and prepared for the noon-o-clock start. Drew agreed to be the runner and first lapper, and the team came out to cheer on their first rider. The Kuhl jersey threw down an awesome first lap time of under an hour, getting us off to a phenomenal start. Henry tagged off next, followed by Logan. Both boys clocked in at under an hour – awesome!! I was the fourth rider to go out, and Graham came in as caboose, smiling from ear-to-ear at his impressive lap time of just over an hour. With the first lap concluded, everyone settled into their rhythm. The team held pretty consistent lap times as the evening approached and consistency, we had repeatedly discussed, is the key to doing well in a 24 hour race. Thus, Team Rockford-Kuhl started to draw ahead and develop a lead.
As dusk began to close over the horizon, I strapped lights to my bars and helmet. Night laps were approaching. I was the first teammate to ride the course in the dark and found the challenge (as well as the milder temperature) insanely fun. Other riders had similar experiences… Graham even said he would ride the whole 24 hours in the dark. Drew and Henry continued to destroy the lap times and I honestly can't remember them ever complaining or uttering anything but positive encouragement. Logan showed some resiliency by having a good attitude and time for his early morning lap, despite the tired muscles. Then came a setback, a challenge. Type III fun.
My third lap started just before 3 AM. Graham came in and tagged me off, yelling as I rode away, "Just have fun, Molly! The night is so fun. Have fun!" The first part of my lap went well, but about 10 minutes in I realized that my handlebar lamp had gone out. Though this was slightly annoying, I could still see well with my headlamp on and pushed further. About halfway, though, my lighted path suddenly, dreadfully, faded into the blackness of the night. At this point, I think I was too tired to be set back by discouragement. Somewhat involuntarily, I went through the motions of getting back to camp: I hopped on another kind rider's light until about 4:10, when the first signs of sunrise started to show. It was still, however, just a few shades of light past pitch-black and riding was extremely scary. I'm really lucky to have made it back to the camp without injury or mechanicals. We lost a few minutes due to this incident, but Drew took off at full speed and got us right back on track. Team Rockford-Kuhl was still in the lead.
Sunday's sunrise brought another scorcher of a day. Our lead kept increasing, and the question now became whether or not we could get in another lap before noon. Now was go-time, and all riders hammered down some incredible performances considering the levels of fatigue. Logan threw down a time that rivaled that of his first lap, I pushed myself until collapsing at the finish, and Drew clocked in at well under an hour. We think Drew's last lap might have been close to the course record time. At a few minutes before noon, the team waited with baited breath at the start/finish. Our eyes searched the course for Henry's Rockford jersey… if he came in before twelve o'clock, Graham had graciously volunteered to ride the final lap. Sure enough, at about four to noon, Henry hammered it in to the finish and tagged off our final rider. We were now guaranteed the win for the Junior 5-person category.
By the end of the longest day of my life, we had ridden over 375 miles – almost the distance from Bozeman to Spokane. We had proudly stood on the top of the podium and represented Team Rockford and Team Kuhl. We had bonded through late-night talks in the tent, delirious laughter, a post-race swim in the river, endless pasta meals, stories, cuddling, confetti, silly string, grocery store races, singing, M&Ms, card games, and Graham's unapologetically inappropriate jokes. Those 60-75 miles on the course were undoubtedly brutal, but also… ridiculously fun. I don't know how this phenomenon occurs, but the more grueling the activity, the more I miss it afterwards. A few days after Round and Round, I found myself already wishing I was back there, wishing I could do it all over again with this incredible team. I looked at pictures from the weekend (thanks Lisa Palmer-Leger!!) and my gut ached with the longing to experience everything again. I could even look at the picture of me lying on the ground, covered in dirt and a wet towel, with my fingers crampedly formed in the shape of my handlebar grips and remember the moment fondly, thinking to myself: "that was so fun."
It is said that there are three types of fun. The majority probably steer clear of type III, but I find myself seeking it out. The more I push myself, the closer I get to my limits, the more I learn about myself. Everything and everyone becomes raw, beautiful. When you find yourself strapping on bike gloves at two-thirty in the morning, you need the encouragement and presence of your teammates and support crew. I needed Team Rockford, and I will continue to need cycling.
Thank you to everyone who made this weekend possible… It's something I'll never forget.
In the words of John Lennon:
I'm just sitting here watching the wheels go round and round,
I really love to watch them roll,
No longer riding on the merry-go-round,
I just had to let it go.
-Molly H
7