Cardwell Crusher
Apr 01 2013 · 0 comments · Miscellaneous ·

2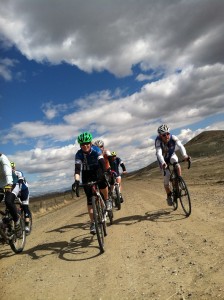 I have been racing for a number of years and thought I had tried about all there was to offer.  Last year I was lucky enough to have a good friend of mine strongly encourage me to do the Tusher in the Crusher; he promised it would be like nothing I have ever done before.  Half pavement-half dirt with over 10k feet of climbing in little less than 70 miles and I was sure it was going to be a hellish experience for this old crit dog. Turned out to be anything but!
This year TRC has approximately 15 riders signed up and given my newfound zeal, I have been scoping out the local roads from every vantage I can to figure out fun and exciting preparation rides.  This past Saturday was one I have been excited about for a while, but never got around to trying.  We had a good, solid group of riders when we departed Three Forks.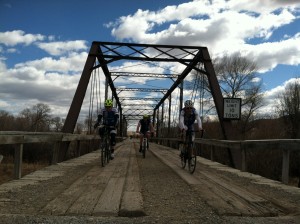 We rolled out and immediately turned south to start the ride off right by hitting some dirt road.  The weather could not have been better for March in Montana; sunny skies with a few puffy clouds about.  Riders chose an assortment of bikes; everything from full sussy's to full road bikes.   After rolling south we turned west toward Willow Creek and a sign met us that read "Impassible When Wet" and I knew we were on the right track!  We continued west and crossed the Jefferson on Williams Bridge before heading toward the ever popular Lewis & Clark Caverns.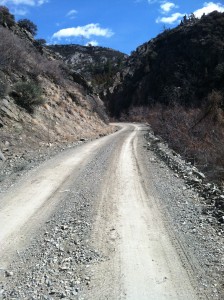 After jaunting up a mere 1200 vertical feet to the top of the Caverns climb, we rolled toward Cardwell.  During a refueling stop, several comments were made about the impending climb while Clif Bars and Margarita Blocks were consumed.  The banter continued as we hopped back on the bikes and started toward of the too-numerous-to-count Cottonwood Canyons.  Now if you have ever driven I-90 (also known as the Mass Pike) from Bozeman to Butte, you have driven down one of the prettiest canyons around just east of Cardwell.  We had all seen the climb, or the few glimpses of it you get from the freeway, but no one had ridden it before.  As we turned back toward the East, we picked up a tailwind and a slew of cowboys returning from runnin' herd.  I felt like a school kid on the first day of summer.  It was quiet, beautiful, and a road I had never ridden before.  Around every bend was something new and I was not disappointed.  This was pure CRUSHER!
We regrouped at the top and rolled down the other side, the equally impressive Milligan Canyon.  I was tempted to stop at Milligan Meats to check it out, but figured that would be an adventure for another day.  Now I would recommend this ride to anyone in a heart beat, and you can find the course on Garmin Connect.  Of course, that map can do so much more for you if you chat with Rusty at Heart Rate Watch Company and get setup with an awesome Garmin GPS unit.  More to come from the Crusher Training crew….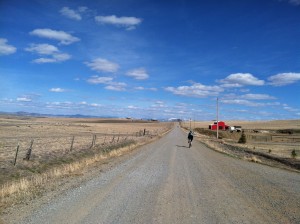 2